Mount Amiata
Mount Amiata: a travel guide of Mount Amiata, hotel, farm holiday, holiday rental homes, campsites, residences, photo gallery, sightseeing, top things to see.
Mount Amiata accomodation and services:
Mount Amiata leisure: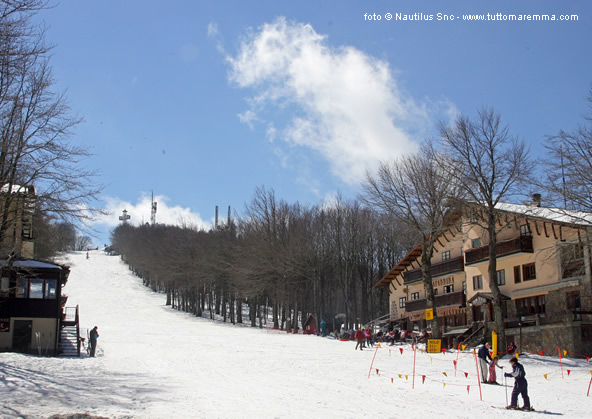 Information & Tips about Mount Amiata:
Mount Amiata is an inactive volcano (1738 above sea level) that has become a popular ski resort among winter sport fans and nature lovers at the same time.
Amiata is the highest mountain in Southern Tuscany and is covered with impressive forests of chestnuts, firs and beeches above 800 metres. On the top, with high visibility conditions, it's possible to admire a spectacular view over much of Maremma even to the hills of Siena and the lake of Bolsena.
Many are the winter sport activities, from skiing (8 ski lifts, 12 downhill trails, 4 cross-country skiing, 1 snow park) to trekking and hiking in a natural reserve where you can find parks populated by deer, fallow deer, chamois, wolves and deer. Here the landscape is very charming due to the thermal springs, streams and ponds, and the presence of rocky masses that seem to be defying the force of gravity.
On Monte Amiata mountain bike and cycling holiday lover can find 6 trials that climb up towards the mountain top across lanes in the wood, from which it's possible to see breathtaking panoramas.
Don't miss to visit Monte Amiata little villages where time goes slow and people have a relaxed lifestyle. We suggest to take a trip to the medieval castles of Arcidosso, Piancastagnaio and Montelaterone or to the Abbey of Sant'Antimo (Abbazia di Sant'Antimo) or the Benedictine Abbey of San Salvatore (built in 743), Villa Sforza Castell'Azzara (dated 1576), the baroque churches of Castel del Piano and the Peschiera of Santa Flora (built in 1450).
For Christmas Monte Amiata seems to be a land of make-believe: at dusk many villages are lighted up with torchlight walks and bonfires (as the propitiatory rituals of ancient origins) offering an incredible old days atmosphere all around.
Monte Amiata offers all sort of tourist accommodation, you can book hotels directly on the pistes otherwise a farm holiday into the unspoilt nature.
Enjoy your holidays in Monte Amiata!
Where is Mount Amiata