Pitigliano
Pitigliano: a travel guide to the village of Pitigliano, hotel, farm holidays, accomodation, real estate, photo gallery, sightseeing, top things to see.
Pitigliano accomodation and services:
Pitigliano leisure: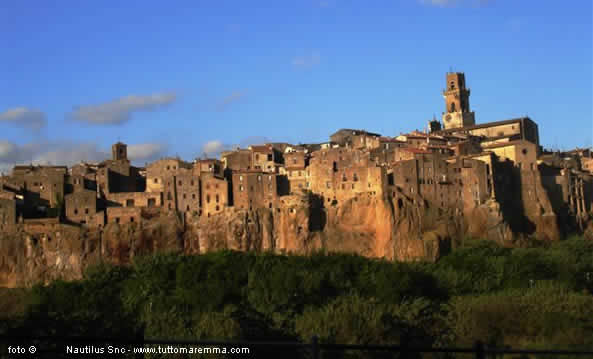 Informations & tips about Pitigliano:
Pitigliano is a picturesque little village of Maremma located on a spur of tuff, falling sheer to green valleys on three sides.
As you come closer to the town you are caught by a breathtaking view of unique beauty, while an imposing arch aqueduct constructed by Medici family welcomes in all its majesty. In Pitigliano you can still admire traces of the old ancestors who inhabited this place thousands years ago. At the beginning there were the Etruscans, then the Romans, later on this place was ruled by a number of powerful families such as the Medieval Aldobandeschi family, that ruled the Maremma for almost half a millennium; the noble Orsini family in the Renaissance, followed briefly by the Sienese, then the Medici and their heirs the Lorraine, who initiated a notable urban development and stimulated an important phase of modernization.
It's worth reminding that Pitigliano has become popular as "Little Jerusalem" in Maremma, for the Jewish community living there since the 16th century, whose traces are still visible in the Synagogue and many other historical buildings.
Where is Pitigliano