Ansedonia
Ansedonia travel guide: hotels, farm holidays, beaches, sightseeing, photo gallery, top things to see.
Ansedonia accomodation and services:
Ansedonia leisure: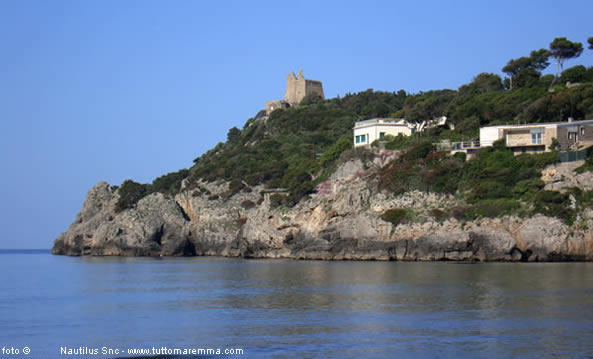 Information & Tips about Ansedonia:
Ansedonia is located on a small promontory up to 114 meters above sea where a long, narrow strip of land called tombolo of Feniglia joins the Maremma coast.
Ansedonia is a particular place where you can't find the typical village developed around the square with the promenade and the main street, but it's a location where the villas are almost hidden by the lush green Mediterranean vegetation.
Most of these buildings are quite recent, in fact before 50's there were only the ancient ruins of the Roman town of Cosa, the towers of S. Pancrazio, S. Biagio and Puccini on Ansedonia promontory. Today, the villas are owned by celebrities, politicians, businessmen, intellectuals who choose to come here confident to have privacy for their summer holidays.
Ansedonia is a very quite site, the narrow streets which across the promontory open themselves to the green vegetation and even in summer, when it's populated, the strongest noises are the songs of the cicadas.
At the foot of the promontory on the right and left you can find the equipped beach and restaurants on the shore, which are open off-season and you can taste spaghetti with seafood in front of the sea.
Where is Ansedonia